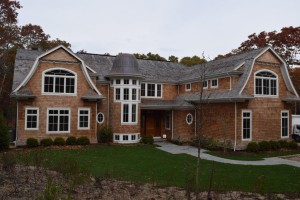 After several years and the harsh weather conditions we often experience on Long Island, it may be time to consider power washing for your Bridgehampton home. Over time, the siding on your home or beach house can get very dirty and mold and mildew may start to grow.  If your Bridgehampton home is near the water, salt water in the air can also cause damage and the moisture can be a culprit for mold. If this has occurred, it may be time for power washing of your Bridgehampton home.  At New Look Exteriors, we can provide power washing services that can have your Bridgehampton home looking like new again.
New Look Exteriors is a licensed and insured power washing company and we have offering power washing services to Bridgehampton customers for over four decades. We will stop by your Bridgehampton home and determine exactly what needs to be done. Our staff has many years of experience power washing homes in Bridgehampton.  They always use the right amount of water pressure and the toughest cleaners to make your Bridgehampton home shine again. You can be sure that the power washing services that we provide will always restore the beauty of your Bridgehampton home!
Our Bridgehampton power washing service is very different than other companies in the industry.  We heat the water that we use to clean the exterior of your home. Heated water is more effective than cold water. We are sure to use the correct chemicals and the right amount of pressure so we do not cause any damage to your Bridgehampton home.  Our power washing is always performed with a soft low pressure method when spraying your Bridgehampton house.  While this can sometimes take a little more time, it is very effective and it will not cause any damage to your Bridgehampton home.
Power washing can make your Bridgehampton home look like new again. It can eliminate dirt as well as mold and mildew.  A power washing service can help to increase the value of your home.  If you are thinking about selling your Bridgehampton home, a power washing service is a must before you put it on the market. Your Bridgehampton home will be restored to its original beauty and more buyers will be interested in a home that does not look dirty and uncared for! Plus, in addition to siding, power washing can help to spruce up the look of fences, gutters, patios, driveways and more.
Our company is proud to offer the most competitive for all our Bridgehampton power washing services.  And, compared to other Bridgehampton power washing companies, our prices are always the best. We have been restoring the beauty of homes in Bridgehampton for many years. Let us restore your home with our power washing services.
Call New Look Exteriors for all of your power washing needs in Bridgehampton.  We can be reached at 631-242-1534.  We will be happy to visit your Bridgehampton home and give you a free estimate for our power washing services. We can make your home look like new again.